Time Billionaires
Tings Newsletter #2
Every now and then, I'll send out an email of random thoughts about random tings.
Who am I? I started Otis, Skillshare, and Turing Capital. I like a variety of things. I don't like being pigeonholed into one thing.
Some random thoughts going into 2022 on this snowy 18 degree Sunday morning.
1. The concept of a time billionaire really resonates. True wealth is being able to do what you want, when you want, and with who you want. "The idea is that time is the only asset in the world that can't be purchased." - @APompliano
2. Money can buy happiness. It doesn't plateau at $75,000, as previous studies have indicated. "Higher incomes were associated with increased daily happiness and overall life satisfaction." Why? Increased comfort, control, and perceived well-being.
3. I like this new HoldCo structure: founders that build their own company that invests, incubates ideas, builds real estate concepts, creates content, etc. Basically whatever s/he wants to do. I can see this being a new trend. Check out NEED/WANT and Pardon.
4. I'm thinking about starting a podcast but I want it to be different. Hit reply if you have suggestions on anything ranging from equipment to engaging formats.
5. Coming into 2022, I wanted more visibility into both my net worth and monthly P&L. I am now using Kubera to track my net worth (macro view) and Tiller to track my expenses/income (micro view).
6. If you are looking for an accessible "family office" to optimize your wealth, check out Compound. The product gives you an overview of your net worth, along with a team that can handle your taxes and strategies for your startup stock options.
7. Speaking of, is there something better than option grants? As valuations increase, options are getting way too expensive to exercise. Good idea from @harryhurst at Pipe: "we give our early team the same ownership structure as the founders. Buy the stock at 409a, file 83(b), implement a repurchase agreement to mirror vesting. Everyone is an owner, as opposed to having the option to own."
8. Why hasn't anyone created the YC for non-profits? Set it up as a dual company structure: for-profit and non-profit to tackle some of the world's biggest problems. Feels like an obvious opportunity.
9. I like what Justin Mares is doing with Inflection Grants. "If you're under 25 and $2000 or less can meaningfully change your life, I want to hear from you."
10. As I write this, the crypto markets are in a deep plunge. Nevertheless, I liked these market overviews: Q1 2022 Thesis (from Money With Carter), Quarter 1 2022 (from Ansem), and Trading the Metagame (from Cobie).
11. TLDR: "Put simply, if we're at ~$1B per day in crypto options volume, then the upside is 500-1,000x from here."
12. I like the Gemini Earn product for stablecoin interest. Currently 8.05% APY. As always, DYOR.
13. If you're into the UFC and NFTs, Dapper Labs is dropping UFC Strike today. Same team behind NBA Top Shot. (UFC from last night: who knew Francis had sick BJJ skillz?)
14. I invested in Shaan's rolling fund. I'm bullish on solo capitalists who build an online following and leverage that audience to do XYZ.
15. I joined Sam Parr's STR Facebook group. STR stands for Short Term Rentals and the STR concepts are really creative. Ranging from one person spending $40K on pool heating to a sporting club in OBX.
16. I then went down the STR rabbit hole and watched a bunch of videos from Robuilt. He just bought 50 acres in Tennessee and is building a brand of tiny homes to list on Airbnb.
17. I've setup my PKM in Workflowy now that they have backlinks. One system to capture my ideas, learnings, and random thoughts. Over a long period of time, this will continue to be a growing database of everything in my brain.
18. We set up food prep / delivery from a local chef. Five lunches. Four dinners. Plus snacks. This has been the biggest game-changer for our family.
19. My daughter has destroyed my Youtube algorithm. It's now full of Llama Llama, Peppa Pig, Daniel Tiger, Sesame Street, and everything in between 😂. I have now set her up with her own account.
20. I'm a little late to this, but this song by The Linda Lindas is great: Racist, Sexist Boy.
21. The Kid Cudi documentary on Amazon is very good. He's your favorite rapper's favorite rapper. Has close to 500 ⭐ ⭐ ⭐ ⭐ ⭐ reviews on Amazon (4.9 to be exact).
22. Major League DJz. Who doesn't want to vibe out with twin DJs from Johannesburg? Throw this on in the background while you are working.
23. I played a lot of Magic the Gathering over the winter break. Got ranked in Arena (top 1,000!). If you have a bunch of MTG cards, check out Card Conduit. You can ship them your unsorted cards and they will sell them for you.
24. Charlie Woods golf swing << insert chef's kiss >> 🧑‍🍳 😘
25. Ending on this good find from @Julian. "The difference between happiness, meaning, and true psychological richness." Which do you optimize for?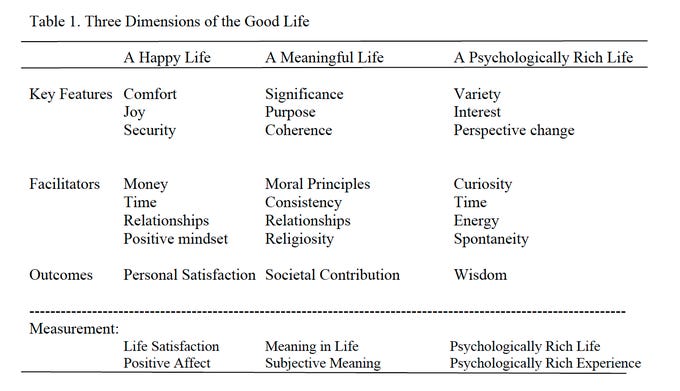 That's a wrap for this month.
- Michael